Tampa Bay Asphalt Sealcoating & Striping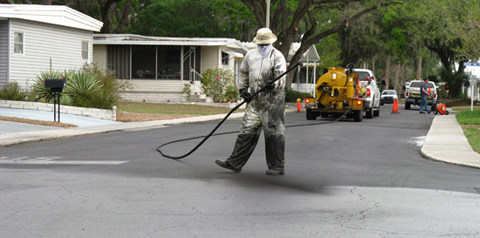 There are several benefits to applying asphalt sealcoating to your asphalt every couple of years. Aside from making it look better, it actually protects it from the sun and other elements such as oil and gasoline leaked from vehicles. Asphalt is made up of rock, sand, and an adhesive that holds everything together. Over time, the sun starts to break down the adhesive and causes the rock and sand to start to come apart. This is why it starts to turn gray over time and you'll start to find sandy spots throughout your paved area. Since asphalt is a petroleum based product, other petroleum based products such as oil and gasoline can easily absorb into the material, also causing it to breakdown and come apart. By applying a fresh sealcoat every 2 to 3 years, you can preserve your asphalt parking lot or driveway and actually save money on your investment in the long run.
Cothron Construction uses Gemseal products, one of the industry leaders of sealcoating materials, and applies all products in accordance with manufacturer's specifications. We will properly clean your asphalt, repair major cracks with the highest quality products, and properly apply the highest quality sealcoat and striping products on the market today.
So if you are looking for a professional Tampa asphalt contractor then please call me today at 813-684-0618 or complete our online request form.