Tampa Bay Underground Utilities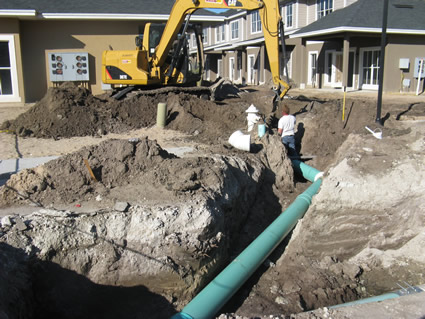 The installations of a Tampa building's service pipes, or underground utilities, are an important part of any project. This includes items such as sub-drainage, drainage structures, sanitary and storm drainage piping, water service lines, conduits for gas & electrical systems, and other items that may be required for a particular project. Cothron Construction can accomplish these installations though various means including open excavations, directional drilling, auger boring, jacking and boring, slip lining, trenchless technologies, and other methods depending on the circumstances. We at Cothron Construction understand the importance of our job and take great pride in making sure that no details go overlooked during these critical phases of every project.
Our Underground Utility Services include:
Sanitary Sewer
Storm Sewer
Water Distribution Lines
Reclaimed Water Service
Fire Lines (Fire Hydrant Assemblies)
Conduits
Sub-Drains
So if you are looking for a professional Tampa Bay Underground Utilities contractor then please call me today at 813-684-0618 or complete our online request form.