Apollo Beach General Contractor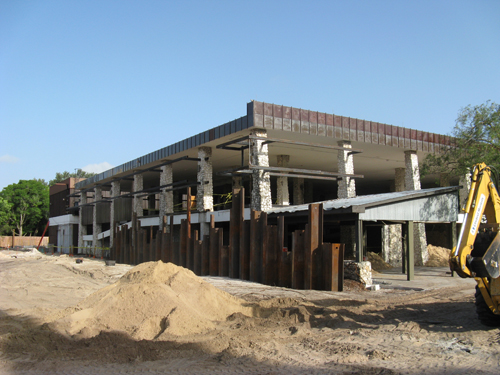 South Florida soils run the spectrum from lime rock, to sand, marl, and muck with sand marl and muck being predominant. For want of load bearing capacity, sand marl and muck is the less desirable of soil types for use as building sites in south Florida. Even so, early pioneer builders in south Florida found an abundance of high, dry and build able land, namely lime rock (usually found in pine islands). As time went by and development intensified, desirable building sites became scarce while demand was on the rise. Urban development pushed westward into marl and muck. This required an expensive site development process sometimes called "demucking."
Although Apollo Beach general contractors and developers do find considerable lime stone rock formations that require a dynamite operation to fracture the rock so that it may then be excavated, on this site we found mostly a fine silt sandy soil. This allowed us to begin the required excavations without the use of dynamite. However, sand is very porous in order to provide residents with a year round lake it was necessary to apply a "lake liner". On this project the liner was a 50 mil thick rubber material that was laid on the lake bottom in sections. The sides and ends of the fabric are rolled under the bank of the lake. The individual sections are each fastened to the previous using a rubber seam compound similar to that used on some EDPM roof installations. This application is complicated by the fact that the pumping and dewatering operation must continue to completion of liner installation.
So if you are looking for a professional Apollo Beach general contractor then please call me today at 813-684-0618 or complete our online request form.